Cold Laser Therapy for Chappaqua, NY
State of the Art Laser Therapy
Laser Therapy for Chappaqua, NY
We provide these cold laser treatments for people from Chappaqua, NY:
What is Cold Laser Therapy?​
Cold Laser therapies use targeted light at a specific wavelength to penetrate and treat tissue and speed up the healing process. The light permeates tissue and promotes healthy cell regeneration. Also known as Low-Level Laser Therapy (LLLT), this treatment option has been around for some time and is respected as a treatment option in the medical community. LLLT is entirely safe and effective and is known to eliminate pain, reduce swelling, improve joint pain and mobility, and much more.
As the laser is not set to cut tissue, as with surgery, LLLT devices emit a lower level of light that is "cooler." This light is focused and directed at specific areas of the body, where it effectively interacts with deep tissue and promotes healthy repair and growth.
Malti Gupta at Safe Laser Therapy has over twenty years of experience treating all kinds of injuries and health issues with Cold Laser Therapy.
How Does Cold Laser Therapy Work in Chappaqua?
Low-Level Laser Therapy (LLLT) is a high-tech yet a non-invasive treatment. It can help eliminate the physical cravings of nicotine-related addictions, heal wounds faster, calm inflammation of joints or tissue, and treat many other health issues, conditions and injuries.
Specially designed handheld lasers are placed on the Body, targeting energy pathways on the body or the injured area. Cold lasers are handheld devices used by the clinician and are often the size of a flashlight. The laser is placed directly over the injured area for 30 seconds to several minutes, depending on the size of the area being treated and the dose provided by the cold laser unit. During this time, the non-thermal photons of light emitted from the laser pass through the skin's layers (the dermis, epidermis, and the subcutaneous tissue or tissue fat under the skin). This light can penetrate 2 to 5 centimeters below the skin at 90mw and 830nm.
The light (which is not hot or capable of cutting, as laser surgery does) stimulates energy and promotes more rapid cell regeneration. These laser treatments are painless but have a more pronounced effect on healing, with fewer treatments than many other options.
Our Treatment Philosophy
Malti Gupta came to the U.S. from India many years ago. At the time, she could not believe how often people were consuming "health" products and pharmaceuticals to deal with conditions that could be easily treated with more natural methods. This included injuries, weight gain, anxiety, nicotine addiction, joint pain, and arthritis. And much more. In search of expanding her expertise in holistic healing, Malti came across laser therapy, which was gaining recognition at the time as a very effective and safe treatment option for many conditions. Research led her to the respected Lightworks Clinic in the U.K., where she studied with several laser therapy experts. After becoming fully certified in 2008, Malti opened Safe Laser Therapy in Stamford, CT.
Since then, Malti has committed herself to helping people lead healthier and happier lives using laser therapy treatments. A lifelong learner, Malti has continued her studies and is also deeply knowledgeable about the principles of acupuncture, energy pathways in the body, nutrition, and many other natural and holistic health practices. Malti believes your health journey should include safe, all-natural, nonchemical options whenever possible. At SLT, state-of-the-art lasers combine with customized programs and Malti's caring manner to help clients heal and achieve their health goals.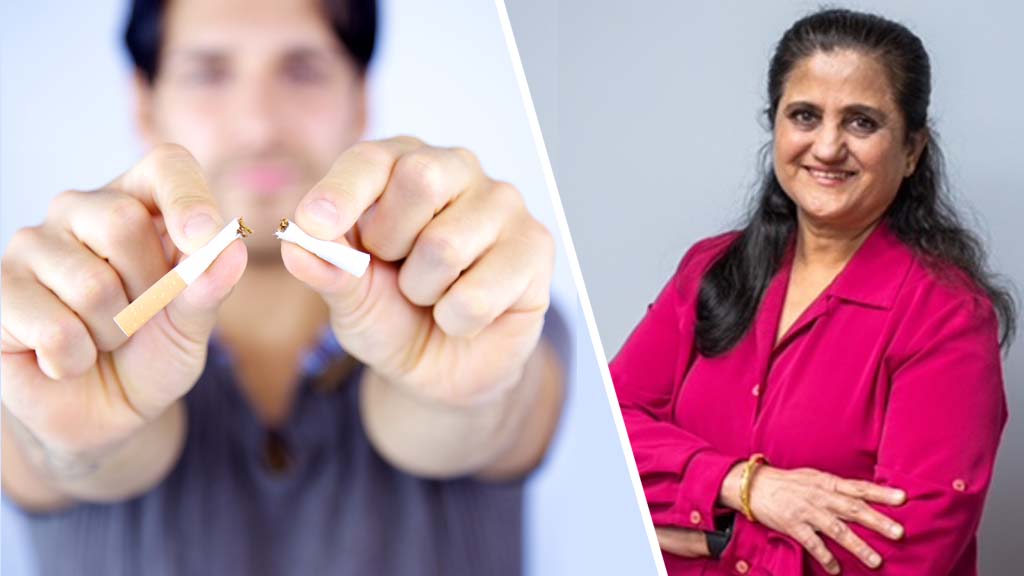 Our Training and Areas of Experience
Low-Level Laser Therapy (LLLT) works on the principle of Photobiomodulation. Every cell in the body is capable of responding positively to light. Different cells are activated using different frequencies. The study of this practice is complex, but Safe Laster Therapist Malti Gupta has over 20 years of training and experience and can treat many health conditions. Malti trained at the respected Lightworks Clinic in the U.K. and has a deep knowledge of laser's effectiveness in addressing all health issues. She is also trained in many other holistic treatments and has certification in low-level laser therapy to treat hair loss and weight loss.
Wavelength is important. We use a mixture of Class 3B Laser and LED lasers to increase the energy around cells working at suboptimal levels due to injury to a muscle, tissue damage, or disease. The application of light, which penetrates deeply past the layers of skin, triggers the body's natural analgesic. The light application also increases blood flow and activates the body's anti-inflammatory response. As a result, the body's biological healing processes are accelerated. SLT is also experienced in Laser Therapy that neutralizes infection or in situations where wounds are not responding to conventional medical practices – because the laser treatment strengthens the tissue's ability to regenerate and heal.
Call Safe Laser Therapy Today
Malti Gupta, the owner of Safe Laser Therapy, is a caring and experienced Laser Therapist who will use this innovative treatment to help you feel better and live a healthier life with no chemicals or side effects. Call Safe Laser Therapy (SLT) at (203) 601-7772 for a free phone consultation and to ask about our special offers for first-time clients.
Health and healing are just a phone call away.
What Our Clients Are Saying

"The full infrared body wrap was relaxing." I started the full infrared body wrap treatment four weeks ago. During the treatments I felt relaxed to the point where I took a short naps. After the treatment my skin felt tighter, I had more energy and felt lighter which gave me the results that I expected. Malti is knowledgeable. She will help you reach your goal and stay on track to see even better results. With my last treatment to go I strongly recommend to anyone to try it out. I'm for sure coming back." – Stefania     (Read Stefania's review on Google)

"I lost inches off my waist. Malti is great." As a future bride, I wanted to lose inches and feel less stressed. It really does wonders! I have gone 2-3 times a week and feel amazing when I leave. I feel lighter, rested, my sleeping is 100% better and I have lost inches and pounds! Malti is wonderful and she really wants me to succeed and feel great on my big day! Highly recommend it!." – Erin     (Read Erin's review on Google)

"I haven't smoked in over three years!!" Went here for the treatment to stop smoking. I found a treatment that actually works,  and a dedicated, passionate and understanding person in Malti. The treatment takes care of the physical cravings and side effects of the withdrawal. I also did the detox cleanses to keep the initial weight gain from happening. If you've been looking for a way to quit smoking with a high chance of success this is it. Thank you Malti for all your support and check ins. – Caitlin     (Read Caitlin's review on Google)
"I'm not going to smoke again. I feel amazing." I was a big time secret smoker for over 20 years. I've tried hypnosis, acupuncture and nicotine replacement and willpower which were all useless. This laser therapy was new to me, but I'm 10 days without smoking and I really don't miss it. Malti is judgement free and full of useful advice for healthier living. Best decision I've made in over 20 years!." – Fiona     (Read Fiona's review on Google)
"*" indicates required fields
Disclaimer:
Certain medical conditions may restrict your participation in our treatment program. Please check FAQ (Restricting conditions) or discuss with our trained and experienced laser therapist about your conditions and treatment options. Laser therapy is not intended to replace any medical care. We recommend that you consult your physician for a professional diagnosis of your health.